Welcome To Our
Bed and Breakfast !

We live in the beautiful Chateauguay Valley, tucked away in the South West corner of Quebec, Canada, close to the northern US border of New York state.
Join us at our Weekend Retreat for Quebec Country Life at its Best .
Country Week-end Escapes.
Be sure of a warm welcome from Ariane and Eric Pritchard.
Our country life and home reflects English and French heritage; come and share it with us.
Our lovely 130 year old fully renovated farm house has two cozy bedrooms available for your weekend escape.
We serve French breakfasts
(for example, hot tasty croissants with bowls of café au lait).
Relax on our sun deck overlooking fields and forest, laze around our in-ground pool, or enjoy our sunny solarium.
Watch the horses graze and savor the joys of nature.
After breakfast, wander in our 245 acres of natural forest, paths and river
Our Farm House is Non Smoking
Satellite TV and WIFI internet
Electric Vehicle Charging Station
Prices
Daily rates (bedroom with private bathroom):
Single occupancy from $100
Double occupancy from $120
$10.00 Additional child
3.5% Tax per night
25% deposit at time of booking

Local Activities
Picturesque cycling tours Apple orchards, vine yards, cider Maple syrup and Cabane a Sucre
Historic covered bridge Historic churches and cemeteries.
Battle of Chateauguay museum Reserve Nationale de Faune Lac St
Francois Droulers Archaelogical Site Kayak/Canoeing
Country fairs - Havelock, Huntington,
Ormstown Country pubs and brasseries
Good restaurants - Mexican, French,
Canadian
Parc Safari
Regular local country auctions
Horse riding lessons (on request)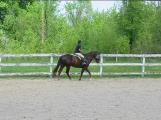 Golf U-pik strawberries and apples
Craft and gift shops
Antique shops
Dog sled rides Cross-country skiing
Downhill skiing nearby Snowmobile routes nearby
Contact Information
2268 Gore, Hinchinbrooke (Ormstown)
Quebec Canada J0S1K04
GPS N 45deg 04.431' W 074deg 02.410'
Tel: (450) 829-3593
Cell (450) 829-3882
Email: ariane.triana@yahoo.com
CITQ# 142063
Interested in Motorcycling?